Tips from the world of technology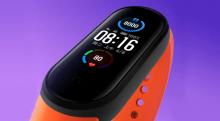 Xiaomi has launched its fitness tracker, the Mi Band 5.  The Mi Band 5 now has improved sleep monitoring, with continuous heart rate tracking. This can help identify sleep problems.
ElliQ the robot has a friendly personality, with a bobbing head and a chatty voice, and
is like a robot caretaker for the elderly.
Everyone loves travelling, but for one reason or another, not everyone can afford to
travel anywhere in the world.
The good news is that technology can already provide a solution!