Be Smart Senior: Online safety tips for older adults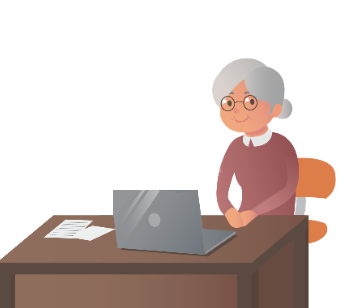 Internet is for us all, so be brave and try it! There is no need to be afraid of computers and other equipment. They do not break easily and by trying them, you can learn how to use them. Instructions on how to use the internet can be obtained for example from libraries, different organisations, associations and by participating in courses organised by adult education centres. In addition, relatives and friends can be of great help. For example, grandchildren most likely have a lot of experience in using the internet.  
Nowadays, the internet use of older adults has diversified and become a more common part of their daily lives.
The internet makes everyday life easier:
Internet is very useful in taking care of everyday activities (bank and health services, shopping, watching television programmes and movies, following what is happening in the world)
Internet makes it easy to communicate with friends and relatives (email, social media, video calls, quick messaging service and blogs for all ages according to one's own interest)
Internet can be used with different devices such as smart phones, tablets and computers. Many people think that tablets are practical because they are lightweight and portable.

All tablets support a touch screen that is easier for many, especially new computer users. Browsing the internet on the tablet is easy and you can also magnify the screen to enlarge text and pictures.
SAFE INTERNET USAGE
Instructions for safe internet browsing:
learn how to use your computer
remember that you can yourself improve your network safety
when you fill out your personal information in different kind of forms, it is recommended to use secure network (for example bank and finances)
if you suspect the internet site is not trustworthy, do not use it!
authorities and reliable service providers (such as police and bank) do not ask for your credentials/username or passwords
do not give your bank account information or send money to strangers
keep your passwords to yourself and renew them at least a few times a year
ideal passwords do not mean anything. They are a combination of upper and lower case characters; numbers; and special characters, therefore do not use easily guessable passwords like your own name or birthday
create different passwords for all your different accounts
publish only material that does not cause harm and does not offend anyone, because when something is published online it may not be removable any more
remember that if you share a photo of yourself with other people in it, you should ask for a permission from all persons in the picture. Copyrights may also restrict the use of the text and pictures.
everything published in the internet is not necessarily true (it is easy to lie your identity and manipulate the truth otherwise)
if you shop online, it might be a good idea to ask help from more experienced shoppers to get started. ALWAYS confirm that the seller is reliable and use

well-known online stores.
Give your credit card information via a secure connection.  This verifies that your information does not end up to third parties. The secure connection can be recognised at the site address beginning as https://. A padlock icon, or lock icon, displayed in a web browser indicates a secure mode. Remember that so called "too good to be true bargains" mostly are too good to be true. (Always read the Terms and Conditions.)
when you browse for information online, it is good to be critical as there are lots of faulty and misleading information in the internet
in the trustworthy sites you can always find information about the website administrator
do not open strange looking emails or messages. Criminals operate also in internet. Never open or download the attachments in strange emails as they may contain malware.
A lot of scam/ phishing emails are sent nowadays

(they often contain lot of misspelling or grammar mistakes and they are sent from an unknown email address). Do not open links or attachments.
use reliable news and information sources (EXAMPLES OF YOUR LOCAL NEWS SITES)
if you use public computers (for instance in libraries) remember to clear your cache and browsing data, when you finish using the computer.
Sources:
https://cheekymunkey.co.uk/using-the-internet-for-seniors-beginners-guide/